20 August 2010
The Hong Kong Jockey Club announced today (20 August) that it would contribute to three more Sichuan reconstruction projects focusing on education, vocational training, and rehabilitation facilities and expertise.  The new initiatives will not only help Sichuan people recover from the scars left by the natural calamity in 2008, but will also catapult the nation to the forefront of emergency management and research - in keeping with the Club's 125-year-old tradition of contributing to society's sustainable growth and development.
The three new projects are the creation of China's first Training Institute on Disaster Management and Reconstruction; the implementation of a series of rehabilitation programmes by Sichuan Provincial 8-1 Rehabilitation Centre; and the rebuilding of Ya An Vocational College.  Upon completion in late 2011 to early 2012, these projects will provide professional training to more than 15,000 people a year.
Meanwhile, the four initial projects sponsored by the Club as part of its pledge to contribute HK$1 billion towards post-earthquake reconstruction in Sichuan are making significant progress.  These projects, which are focused on restoring medical and educational services as well as helping disabled young people in Sichuan receive a normal education, will benefit one million people each year when they come into full operation by 2012.
Speaking at a signing ceremony held today in Beijing, Club Chairman Dr John C C Chan reiterated the Club's dedication to devoting its surplus to various charitable and community projects.  Through its unique not-for-profit business model, the Club had developed from a private amateur horse racing club into Hong Kong's premier charitable benefactor.  "As the bond between Hong Kong and the Mainland has grown stronger over the years, so too has the Club been increasingly addressing the needs of Mainland compatriots by making donations and contributing to different causes," he commented.
Dr Chan noted that the Club's contributions to the staging of the Beijing 2008 Olympic Equestrian Events in Hong Kong, its financial and professional support for the Guangzhou 2010 Asian Games Equestrian Events and its pledge to convert the Asian Games equestrian venues to a racehorse training centre were but a few examples illustrating the Club's passion for both Hong Kong and the nation.
It had been two years since the catastrophe struck Sichuan, Dr Chan observed, and to complement the extensive hardware reconstruction, the Club was now keen to contribute to the province's sustainable long-term growth by nurturing its talents.  "The future of our nation hinges on the capabilities of the new generation," he remarked.  "Five of the seven reconstruction initiatives supported by the Club are focused on education because we want to build a comprehensive network that can help Sichuan's young people advance from junior secondary to senior secondary level, then on to vocational or undergraduate training, and further to post-graduate studies.  In this way we can make the most effective use of our resources."
The Club's projects would encompass various academic disciplines, sports and vocational training, Dr Chan added, as well as advanced scientific research, so as to ensure that young Mainland compatriots could fully realise their potential for the benefit of the nation as a whole.
Given its vast land area, China had been affected by different forms of catastrophe since time immemorial.  Addressing both the present and future needs of its compatriots, the Club had pledged to support the establishment of the Nation's first Training Institute on Disaster Management and Reconstruction, with a view to developing it into a world-class disaster management institute serving the whole nation, as well as creating a platform for closer collaboration between China and the global community in emergency research.
The planned Training Institute and HKJC Research Centre on Disaster Management, to be established by Sichuan University and Hong Kong Polytechnic University, will provide research and professional training in rehabilitation and disaster management.  The Institute also aims at developing into a world class disaster management research centre.  The Club's total funding of RMB 200 million will cover the construction of the campus building, laboratory and practicum sites, as well as the first phase operation of its educational programmes.  It is anticipated that some 5,000 practising professionals will be trained there in the first three years to contribute to the reconstruction and sustainable development of earthquake-affected areas.
Recovery strategies play an equally important part in helping earthquake-stricken Sichuanese cope with the damage inflicted on them or their loved ones.  As an integral part of the Club's drive to establish a medical centre and rehabilitation base for disabled students in the province, the Club will contribute a total of RMB53 million to the newly-built Sichuan Provincial 8-1 Rehabilitation Centre in Wenjiang for the implementation of a comprehensive series of rehabilitation programmes for two years.  This financial support will enable the Rehabilitation Centre to purchase necessary equipment, operate training programmes and provide medical, rehabilitation and counselling services.  During these two years, some 400 core rehabilitation professionals will be given critical professional training, thus benefiting thousands of disabled victims.
Another RMB90 million will be devoted to the rebuilding of the Ya An Vocational College that will provide undergraduate and professional training opportunities for young Mainland compatriots.  The Club believes this constant stream of trained talent in the areas of medicine, medical science, nursing, pharmaceutics, education, electrical engineering and tourism can be a driving force behind the long-term socio-economic growth of Sichuan and other parts of China.
Officiating guests at today's signing ceremony in Beijing were Club Chairman Dr John C C Chan; Club Steward Dr Rita Fan; Honorary Chairman of China Disabled Persons' Federation (CDPF) and President of China Foundation for Disabled Persons Deng Pufang; Vice-Minister of the Ministry of Civil Affairs Dou Yupei; Vice-Minister of the Ministry of Education Hao Ping; Deputy Director of the Hong Kong and Macao Affairs Office of The State Council Zhou Bo; Deputy Managing Director of Hong Kong, Macao and Taiwan Office of Ministry of Education Ding Yuqiu; Vice Governor of Sichuan Province Huang Yangrong; Director of the Office of the HKSAR Government in Beijing Thomas Tso; Vice Minister of the General Logistics Department of Central Military Commission Chen Xinnian; Deputy Director-General of the Sichuan Development and Reform Commission Liu Yuan; Vice-Mayor of Ya An Liao Lei; Vice-Chairman, President of CDPF Wang Xinxian; President of Sichuan University Academician Xie Heping; President of the Hong Kong Polytechnic University Prof Timothy Tong; and Club Chief Executive Officer Winfried Engelbrecht-Bresges.
On the Club's behalf, Mr Engelbrecht-Bresges signed an "Agreement on the Training Institute on Disaster Management and Reconstruction of Sichuan University - Hong Kong Polytechnic University and HKJC Research Centre on Disaster Management)" with President of Sichuan University Academician Xie Heping; an "Agreement on the Ya An Vocational College" with Vice-Mayor of Ya An Liao Lei; and an "Agreement on the Rehabilitation Programme of Sichuan Provincial 8-1 Rehabilitation Centre" with President of the China Foundation For Disabled Persons Tang Xiaoquan.
The four initial reconstruction projects made possible by the Club's donation of RMB401 million in 2008 are meanwhile progressing smoothly.  Construction of Mianyang Youxian Zhongxing HKJC Junior Middle School has already been completed and it will be ready to receive 1,600 students in September.  The Mianyang 3rd City Hospital HKJC Medical Complex will serve 17,000 inpatients and up to 350,000 outpatients a year on completion.  The enlarged Deyang HKJC No.5 Middle School will have a yearly intake of 4,500 students, as will Dujiangyan School which is being extended to become Sichuan HKJC Olympic School, providing sports training that will fill the void left by the loss of many national-level amateur athletes during the earthquake.
The Hong Kong Jockey Club
Founded in 1884, The Hong Kong Jockey Club has become one of Hong Kong's best known and respected organisations, providing the public with world-class sporting entertainment as well as being the city's major non-Government community benefactor, now donating more than HK$1 billion a year to charitable and community projects.  It has been a part of Hong Kong through good times and bad, sharing the city's growth and development with its people, and is dedicated to enhancing the quality of life for future generations.
This link will open in a new window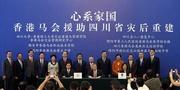 This link will open in a new window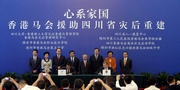 This link will open in a new window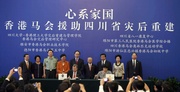 This link will open in a new window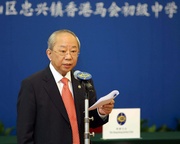 This link will open in a new window
This link will open in a new window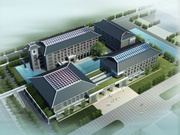 This link will open in a new window

This link will open in a new window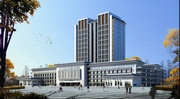 This link will open in a new window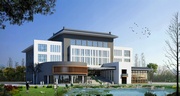 This link will open in a new window