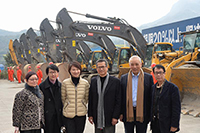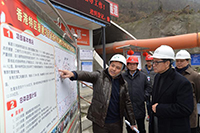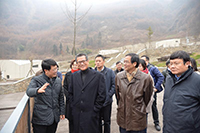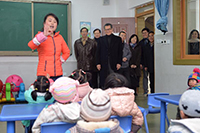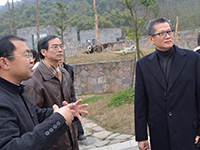 The Secretary for Development, Mr Paul Chan, led a delegation comprising government officials and members of the Disaster Relief Fund (DRF) Advisory Committee to Sichuan from March 4 – 5, 2014 to inspect the Sichuan reconstruction projects supported by the Hong Kong Special Administrative Region (HKSAR) in the earthquake-stricken areas and the latest situation of the post "4.20 Lushan Earthquake" emergency relief work in Ya'an City.
In Ya'an City, the delegation met with officials of the Sichuan Provincial People's Government and the local government and visited four local disaster and emergency management authorities for briefings on the latest position of the $100 million DRF grant. The delegation also visited the Ya'an Chinese Medicine Hospital, a reconstruction project supported by the HKSAR. In the Wolong Nature Reserve, Mr Chan inspected the Provincial Road 303(Yingxiu to Wolong Section) and received a briefing from the Sichuan Provincial Transport Department. Then he visited the construction site at the China Conservation and Research Centre for Giant Panda in Gengda Village to inspect the progress of the works. He also visited the Gengda School campus and met with the teachers and students. In Dujiangyan, he visited the Giant Panda Conservation and Disease Control Centre to understand its operation.
Accompanying Mr Chan on the visit to Sichuan were the Director of Administration, Ms Kitty Choi, and DRF Advisory Committee members Ms Starry Lee, Mr Cheung Kwok-che, Dr Alice Yuk and Mr Leo Kung, and the Deputy Team Leader (Sichuan Reconstruction) of the Development Bureau, Mr David Tong.