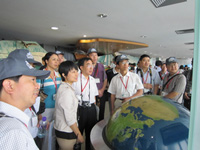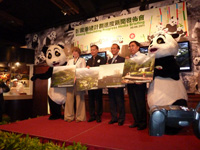 Study tour for "Sustainable Development in Wolong Nature Reserve" was co-organized by Development Bureau of the HKSAR and Ocean Park Conservation Foundation Hong Kong (OPCFHK) visited Hong Kong from 27 to 30 June 2011. The 22-member study tour team is comprised of experts and management staff involved in Wolong Rebuild including Chief of Wolong Nature Reserve Administration, Mr. Zhang Hemin.

The study tour aimed to enable experts and management staff involved in Wolong Rebuild to exchange views on issues of balancing nature conservation and city development through site visits, thereby exploring the strategy for sustainable development and management as to facilitate the establishment of Wolong as a sustainable development conservation and scientific research base.
During the visit, members conducted site visits to Ocean Park, Lions Nature Education Centre in Sai Kung, Hong Kong Geopark in High Island Reservoir, Hong Kong Wetland Park and Mai Po Nature Reserve to share with experts and conversation groups on the overview of the conservation field and management systems.
Mr. Zhang Hemin, Chief of Wolong Nature Reserve Administration; Mr. David Tong, Principal Assistant Secretary (Works) of Development Bureau and Mr. Matthias Li, Trustee Member of OPFCHK attended the "Wolong Rebuilding Progress Media Briefing" on 30 June. Development Bureau and Ocean Park announced that works on the HKSAR's supported Giant Panda Conversation and Disease Control Centre in Dujiangyan and the China Conservation and Research Centre for Giant Panda in Wolong have already started. The works of these two projects will be completed in end of 2012 and the beginning of 2013 respectively. Both centres will be open to tourists for visit after completion, thus enabling the public to better understand the importance of giant panda conservation.
Besides, OPCFHK, Ocean Park and Wolong Nature Reserve Administration during the media briefing signed a framework of co-operation agreement of scientific education to strengthen the collaboration between Wolong and Hong Kong on promoting giant panda conservation.