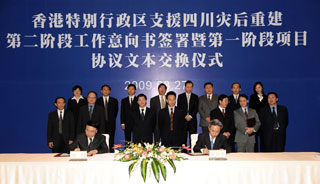 On 27 March 2009, "Letter of Intent on HKSAR's Second Stage Work in Support of Restoration and Reconstruction in the Sichuan Earthquake Stricken Areas" was signed in Chengdu by the Permanent Secretary for Constitutional and Mainland Affairs, Mr Joshua Law, and the Director of the Sichuan Development and Reform Commission, Mr Liu Jie. The signing was attested by the Executive Vice-governor of the Sichuan Provincial Government, Mr Wei Hong, and the Secretary for Constitutional and Mainland Affairs of the HKSAR Government, Mr Stephen Lam.
The "Letter of Intent on Second Stage Work" sets out the initial agreement of the Hong Kong and Sichuan sides, and HKSAR Government's intent on the second stage reconstruction support work. The 103 reconstruction support projects initially identified for implementation in the second stage cover 52 education, 21 medical and rehabilitation, seven social welfare and 23 Wolong Nature Reserve related projects. The maximum total commitment of the HKSAR Government for the second stage projects is about $3.8 billion. In line with the "Government-led, full community involvement" spirit, the HKSAR Government will approach the Hong Kong Jockey Club and some commercial enterprises and encourage them to sponsor some of the projects.
The Sichuan and Hong Kong sides also exchanged "Project Co-operation Arrangements" for 13 of the first stage reconstruction support projects on that day. Each "Project Co-operation Arrangement" sets out the project scope, planning and technical standards, project milestones, funding transfer arrangements, and detailed arrangements on project management, supervision and monitoring.