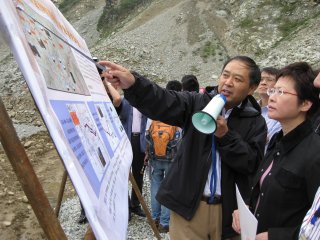 After attending the Project Working Group meetings for the Post-Earthquake Reconstruction of Sichuan and the Signing Ceremony of the Cooperation Arrangement in the morning of 10th October, RJC members headed to the Yingxiu Section of the Provincial Road 303, one of the major reconstruction projects, in the afternoon of the same day to gain more in-depth understanding of the progress of reconstruction works.
The delegation was led by Mrs Carrie Lam, Secretary for Development and Convenor of the RJC. All RJC members took part in the visit under the company and arrangement of Mr Gao Feng, Director of Sichuan Transport Department, Sichuan Province. They passed through Duwen Road which was located at the construction site between Yingxiu and Wolong of the Provincial Road 303 and was briefed by Sichuan officers on the details of the reconstruction work. During the visit, the delegation witnessed swift currents and relics of collapsed mountains caused by the earthquake. Mrs Carrie Lam said that she had gone past this site in April last year on the way to Wolong Natural Reserve and was indeed shocked to see such a devastated sight. She also said that this section of the road was the lifeline between Yingxiu and Wolong, the reconstruction work of the Wolong Natural Reserve would be directly affected if this road could not reopen.
According to the Sichuan-Hong Kong Cooperation Arrangement, Hong Kong would participate in the reconstruction work of this road section. The Provincial Road 303 between Yingxiu and Wolong is of 45 km long, including a tunnel of 5 km and a bridge of 1 km. The preliminary estimate of the construction cost is RMB 760 million which represents 40% of the total cost of the first batch of 20 projects. The road is expected to reopen by the end of 2010.